The minor change of LEGACY is carried out.
LEGACY after a minor change was exhibited in New York International Auto Show the other day. LEGACY of the new exterior to which change was added centering on the front grille was able to be checked.
The lineup of the grade which carries the new style 2.0L boxer turboengine DIT will be carried out to this new style LEGACY.
(A photograph is the LEGACY North America specification after the minor change. )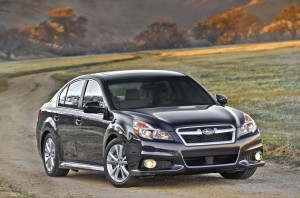 FA20 type turbo is carried in LEGACY.
DIT engine is carried in new style LEGACY after a minor change. This DIT engine equips with a twin scroll turbo the direct injection boxer engine of the FA type 2.0L carried in 86&BRZ. The specifications of that are horsepower output 300ps and maximum torque 40.8kgm.
It achieves a performance rise steeper than the old 2.5L turbo.
It was assumed that this turboengine of the FA type 2.0L was delayed for the 1.6L turbo in sale. However, it will be carried from new style LEGACY and it was rash in the debut.
A photograph is the 2.0L direct injection horizontally opposed engine in which Subaru and Toyota collaborated. This is installed in 86 and BRZ. This is equipped with a twin scroll turbo and it installs in new LEGACY.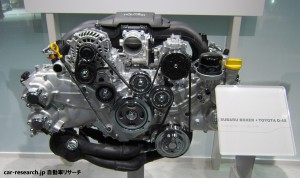 Regrettably, DIT model in which eyesight was installed is not sold to the minor change on May 8.
The additional lineup of the eyesight model will be carried out in the autumn of 2012.
The eyesight of the following version is installed in it.
Old EJ type is abolished about 2.5L engine. And FB type is adopted newly. It is equipped with idling stop.
About transmission, Linear-tronic CVT is improved and the eight speed shift can be enjoyed in S# mode.