SUBARU starts production of BRZ and 86.
Subaru began production of Subaru BRZ and Toyota 86 from March 16, 2012 today. BRZ and 86 are the new style FR sports cars of horizontally-opposed-engine loading.
They fused the horizontally-opposed-engine technology of Subaru, and the direct injection technology of Toyota. The Fuji Heavy Industries (SUBARU) Gumma main factory takes charge of these production. Toyota Motor President Akio Toyoda also participated in the factory, and the line-off ceremony was held today.
They were planning the new style sports car of horizontally-opposed-engine loading after the business tie-up of Toyota and Subaru in October, 2005. This was realized at last.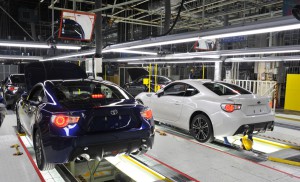 Already accepted reservations BRZ and 86 has been started. Currently, the delivery is made around July.
Should we buy one of the BRZ and 86.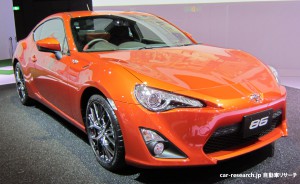 86 and BRZ are the brother models whose fundamental specification is almost the same. However, the design of a front grille, an interior color, and a suspension arrangement have a slight difference.
It is easy to carry out the drift of the 86, and it has become the arrangement for the young men who can play as it is in a circuit. The emblem of 86 under A peeler is also felt as the design for young men.
On the other hand, BRZ is an arrangement called a gentleman's FR sport by stability serious consideration.
An initial order received has the strong popularity of 86. However, a possibility that BRZ will become popularity from now on is high.
---
関連するレポート