The model change of INFINITI G will be in 2013.
Current V36 INFINITI G has been sold from 2006. In 2013, it will be given full model change innovation.
New V37 INFINITI G will have a Hybrid Engine. The system consists of a V6 3.5L, motors and Lithium-ion battery. The horsepower output is 360ps.
The following picture is CV36 SKYLINE COUPE.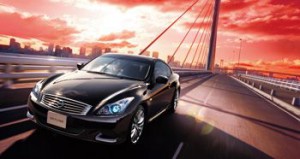 Next INFINITI G has the same Hybrid System as INFINITI M.
The same system as FUGA Hybrid is installed in INFINITI G Hybrid. But about weight of vehicle, INFINITI G Hybrid is lighter. When a current model with the same engine compares, the INFINITI G is lighter 120 kg.
On the other hand, also NA V6 3.0L direct-injection engine is installed in new INFINITI G. The horsepower output will be about 300 ps.
The platform of V37 INFINITI G is the carry-over from current V36.
The release time of new INFINITI G is around May, 2013.
Also full model change of CV37 COUPE is planned in summer 2013.
New CV37 Coupe has a V6 3.5L Hybrid too.
---
関連するレポート