MAZDA3 Hybrid will be put on the market in the autumn of 2013.
Mazda is developing MAZDA3 Hybrid by the hybrid technology which Toyota supplies. The vehicle will be released in the autumn of 2013.Moreover, the full model change is also planned simultaneously. New Mazda 3 will be a world premiere by the Frankfurt auto show in September, 2013, or Tokyo Motor Show in November.
The hybrid engine installed in MAZDA3 is an original system of Mazda, although the technology of Toyota is included. SKYACTIV G of Mazda is a low fuel consumption Atkinson cycle 1.5L engine. The hybrid system by the combination of the engine and electric motor is installed in MAZDA3.
MAZDA3 will be the arrangement which thought the driving performance as important. Therefore, it will be less than fuel consumption performance from the level of the Toyota hybrid car.
Is new MAZDA3 in 2013 a full model change or a minor change?
(A photograph is the current model, 2nd generation MAZDA3. )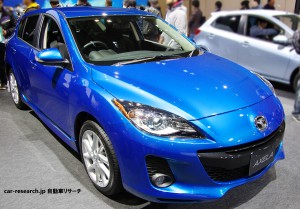 Since current model MAZDA3 was the debut in 2009, if it is change in 2013, it is an idea with a minor change including face change appropriate in timing. However, this may be a full model change.
Mazda calls the low-fuel-consumption technology of its company SKYACTIV TECHNOLOGY, and is doing installation in the prime vehicle. SKYACTIV MAZDA3 which installed the 2.0L fuel-efficient engine of the Atkinson cycle in 2011 last year is released. However, 4-2-1 Exhaust Pipe was not installed. Since all SKYACTIV TECHNOLOGY is not installed, it means that the system is not perfect. The installation of 4-2-1 Exhaust Pipe urges to newly redevelop the whole body.
The change in 2013 may be a full model change.
---
関連するレポート