A diesel engine is installed in New Mazda6.
In Mazda Booth of Tokyo Motor Show 2011, "SHINARI" and "TAKERI" were exhibited. The shape of these concept models is used for next Mazda6. The production model of Mazda6 will be a world premiere in Paris Motor Show 2012.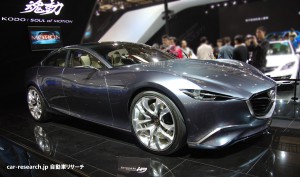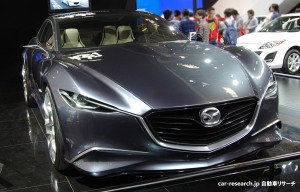 Photos are the concept model "SHINARI" which embodied the next-generation design theme "KODO (Soul of Motion)" .
In next Mazda6, the diesel engine & the energy regeneration system will be installed.
CX-5 of the diesel engine type released in March, 2012. It is a good sale in Mazda. The diesel engine will be installed also in next Mazda6. The 2.2L diesel engine called "SKYACTIV D" attained the compression ratio lower than the conventional general diesel engine. And it became higher combustor efficiency. It has attained the diesel engine emission control of Euro 6, without using a big-ticket emission gas post-processing system.
SKYACTIV D is a fuel-efficient and budget prices diesel engine. It will be installed also in next Mazda6 following CX-5.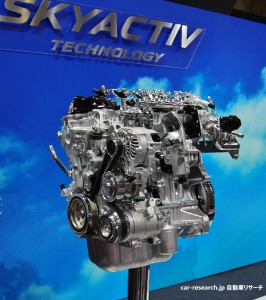 A photograph is SKYACTIV D of a diesel engine. In addition, a gasoline engine vehicle will also be released.
The slowdown energy regeneration system called i-ELOOP will be installed in next Mazda6. This is the first trial in Mazda.
Since next Mazda6 is not a hybrid car, it cannot change the accumulated electric power into torque using an electric motor. However, since the electric power accumulated efficiently can stop power generation of alternator at the time of acceleration and can make the engine stop time by idling stop extend, energy efficiency improves. About 10% of the improvement in fuel consumption of next Mazda6 by adopting the i-ELOOP is expected.
The slowdown energy regeneration system was adopted by the hybrid car until now in many cases. From now on, variable voltage alternator and a capacitor are usually installed also in a traditional engine car, and energy efficiency will be raised.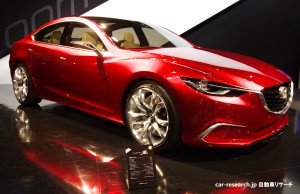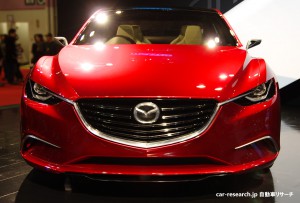 Photographs are next-generation 4 door concept car "TAKERI".
The new Mazda6 goes on sale in early 2013.
---
関連するレポート