STREAM will be minor changes. Grade configuration that will be reduced.
Honda's STREAM, be minor changes.
STREAM of the current model, have a wide range of grade line-up (X, Gi, ZS, RSZ, TS, RST). However, after minor changes, leaving the RSZ, all others will be abolished.
In addition, passengers are changed from 7 seater to 6 seater.
STREAM the price of a new, 1.8L engine for the model, is 1,990,000 yen for FF, is 2,240,000 yen for 4WD. About 2.0L engine model, 2,200,000 yen for FF, 2,450,000 yen for 4WD. It comes to price down of about 100,000 yen compared with the current model RSZ grade.
STREAM number of sales are depressed. Honda is to clean up the line-up, and then to drastically reduce, to keep the sale of end-stage model.
STREAM made a minor change will be released April 5, 2012.
(Photo, STREAM of previous minor changes)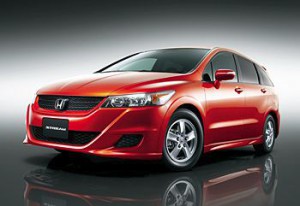 STREAM it to be a full model change is difficult.
STREAM of the current model, in 2006, six years have elapsed as the second generation, from the debut in Japan. Since it is now 2012, is the right time to do a full model change soon. However, it is not achieved.
In Japan, demand minivan is a high level. However, low overall height low roof minivan, such as STREAM, because the interior is not much wide, few users will buy.Step WGN has been buying large indoor well.Freed, even though the body is small, the interior is wide. It has been buying more.
Freed, despite become the fourth year since its release, is more popular vehicles in excess of 10,000 units per month.
On the other hand, STREAM, despite significant price reductions to do with this minor change, the sales target is 1,000 units per month.
By Honda, a full model change of the STREAM, to compete with rival Toyota Wish is difficult.
---
関連するレポート