Honda is developing the new model NSX.
Honda is developing the new model NSX. It will be released in 2015.Honda has so far exhibited the NSX concept at North American International Auto Show and Geneva Motor Show. It is the Beijing Auto Show and was able to catch the sight again this time. The crimson body was impressive this time.
A photograph is the NSX concept exhibited at the Beijing auto show. In North America and China markets,it will be sold by the Acura brand.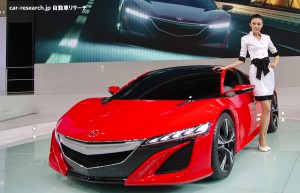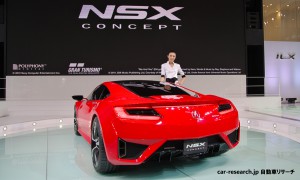 The outline of the next term NSX.
A hybrid system is installed in the next term NSX. Though it is a premium sports car, fuel consumption performance is excellent. JC08 mode fuel consumption is developed with the target of about 15 km/L. At present, a V6 3.5L hybrid engine is due to be installed. It is surmised that a total output is set to about 380 ps at the maximum.
Moreover, if it is sale in 2015, a plug-in hybrid system must be common. If a big lithium-ion battery is installed in NSX, practical use fuel consumption's will improve further.
The drive system is SH-AWD,and the engine-loading position is a midship system.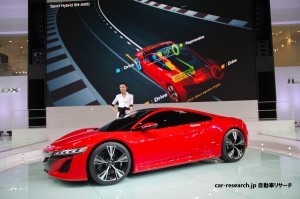 The vehicles price is predicted to be about 10 million yen. It is cheaper than Nissan GT-R or Lexus LFA.
---
関連するレポート