New Aqura RL is a sale schedule in 2013.
Honda made RLX Concept the world premiere in New York International Auto Show 2012.The RLX Concept will be released as New Acura RL in the North American market.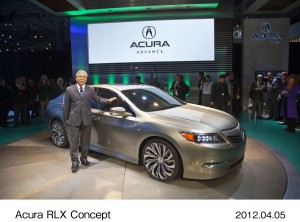 The SH-AWD of Aqura RL will evolve further.
The lineup of new Aqura RL will have a FF model and an AWD model. Honda has announced the release time of new Aqura RL is early 2013. However, only FF model may be put on the market at this time.
The FF model will have newly developed V6 3.5L engine. It is downsizing compared with the current 3.7L engine. However, a new engine is equipped with a direct injection system, a new VTEC, and also a cylinder pause system VCM. It is not only excellent in fuel consumption, but a horsepower output exceeds 309ps of current engine.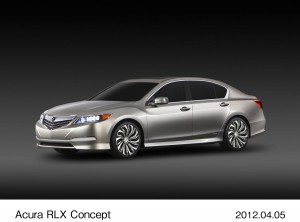 The AWD model is waited eagerly more than FF model of precedence sale. The SH-AWD will be evolved more. It has the electric motors independent to both the right and left of the rear wheel. Therefore, it can perform rear wheel control more delicate than an old SH-AWD system. Besides these, the main part of V6 engine of a front is also equipped with an electric motor. Honda has announced that the horsepower output of the system which consists of a V6 3.5L engine, a front motor and two rear motors exceeds 370ps. That is, next Aqura RL AWD has a hybrid engine. A lithium ion battery is installed in it as a battery for motors drive.
The release time of the AWD model of next Aqura RL will be about one year after FF model sale. It is around the early 2014 from the later 2013.
---
関連するレポート