Infiniti Emerge was exhibited in also Beijing.
Nissan showed INFINITY EMERG-E in Beijing International Automotive Exhibition.
Honda displaied a new color of NSX concept, Toyota announced a new style concept and Nissan proposed the next-generation sport EV by Infiniti EMERG-E.
This EMERG-E is the same vehicle as what was already exhibited in Geneva auto show in March, 2012.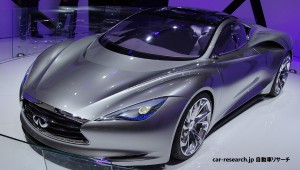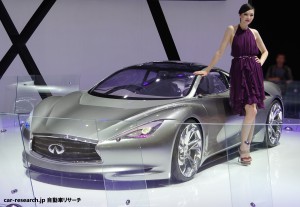 EMERG-E has been developed to target the release of 2015.
Infinity EMERG-E are equipped with series hybrid system based on EV. It has two high-output electricity motors of 201ps in the both rear wheels, 1.2L 3-cylinder engine for power generation only and Lithium-ion battery. Since it is series hybrid system, the distance which can be flown is extensible by gasoline supply. Although EV has long charge time and an infrastructure problem of a recharging point, there is nothing to EMERG-E.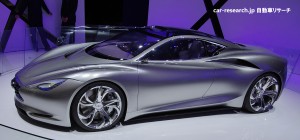 EMERG-E is a Range-extended EV with a generator. It is believed that potential vehicle based on the EMERG-E will be released is high. Actual running prototype model that can be has been already produced two, running test has been carried out.
Target of the release time is around 2015.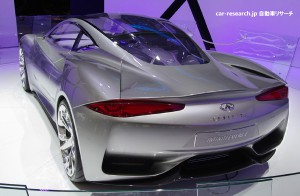 It is expected that EMERG-E has an advanced stability control system by separate motors.