New Alfa Romeo Spider will be based on next MX-5, made by MAZDA.
Mazda announced on May 23, 2012 that we are discussing the business tie-up of 2 seater convertible production with Fiat. The target vehicle type is a convertible by which Fiat is planning sale by the Alfa Romeo brand. If a tie-up is materialized, Mazda will produce the next Spider.
The development of next Alfa Romeo Spider is performed based on next MX-5 of Mazda. Probably basic structures, such as a chassis, will be similar. However, it is not a mere badge engineering. Spider and MX-5 are clearly differentiated about an engine and an exterior design.
Production of the next Spider is scheduled to be started at the Hiroshima head office factory of Mazda in 2015. I expect the improvement in reliability of the Alfa Romeo vehicle.
First of all, new MX-5 will be released.
A photograph is current MX-5.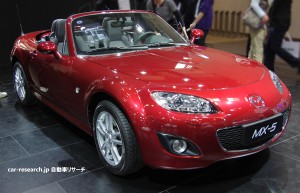 The next MX-5 used as the base of the new Spider will be released in autumn of 2013 or beginning of 2014 .We may meet NEW MX-5 at Tokyo Motor Show 2013.