Honda is developing the SUV vehicle of FIT derivation.
The full model change of FIT (European name JAZZ) will be scheduled for 2013 next year. The compact SUV car which used the next FIT as the base is developed by Honda. It is assumed to be released at Tokyo Motor Show in 2013.
This FIT derivation SUV will be the global car produced & sold all over the world. After it is released in Japan, in Europe, China, South America, North America, the Asia emerging country, and each area, local production and sale are likely to be started around in 2014.
A new style direct injection 1.5L engine or hybrid engine will be installed in the FIT derivation SUV.

The prime engine of new style compact SUV will be two types. They are the new style direct injection 1.5L engine installed from the next FIT, or the hybrid system. Now, there is no hybrid car at compact SUV. This FIT derivation SUV will be the first hybrid car in the segment. As for the Europe specification, installation of the diesel engine is considered. Moreover, Honda considers installing in it the outdated engine of the present FIT which the cost cut followed, and releasing with budget prices for emerging market.
As for FIT derivation SUV, a center tank layout is adopted. The merit of packaging is also expectable.
(Photographs is Nissan JUKE which is a rival product of FIT derivation SUV.)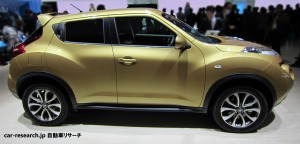 In compact SUV designed in Japan, Nissan JUKE is the sole wins now. Mazda is developing SUV vehicle CX-3 of the Demio base. Furthermore, if FIT-SUV will be added, they will be fighting in confusion.